Women are awesome and deserve awesome things to further empower them while they are busy breaking glass ceilings and smashing the patriarchy. Here are 6 rad & ethical stores with products handmade by some of the coolest women in the business. Constructed using talent & men's tears.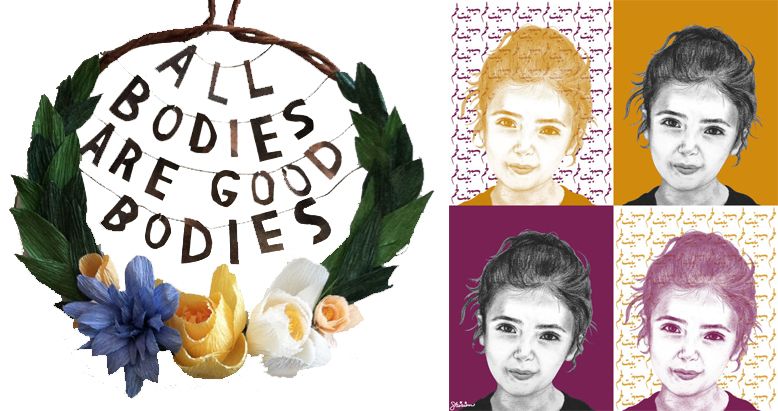 Left |
GracedChin:
All Bodies are Good Bodies Crepe Paper Flower Wreath
| from the artist, "remind yourself everyday that bodies are inherently incapable of being bad...that includes ALL marginalized body types, especially disabled and queer bodies...I hope you look at yourself in the mirror everyday and think "dang, I look good. I am a freaking miracle." Because you do and you are." Basically, just buy everything in her store? Okay YES.
Right |
Alwan AlShatat:
Bethlehem Refugee Portrait
| you haven't even seen strong until you've met a Palestinian girl/woman (re: both the Palestinian refugee in the photo and the artist behind the work). Moreover, proceeds from this print go to the Middle East Children's Alliance (MECA)! (Which
you can donate to
directly, as well!)
Left |
Don't Sleep Interiors:
Angela Davis Pillow
| this handmade store is filled with inspirational black leaders and liberation fighters! Interior decor meets the celebration of strong black men and women to create truly
revolutionary
pieces (hehe bad joke sorry)!
Right |
Watan:
Palestinian "A Woman's Voice is a Revolution" Print
| honestly, please tell me one single thing better than the most adorable illustrations with a powerful message celebrating the strong and fierce women who act as the backbone of the Palestinian freedom movement. The Arabic script in the image translates to "A Woman's Voice is a Revolution" and it's fabulous.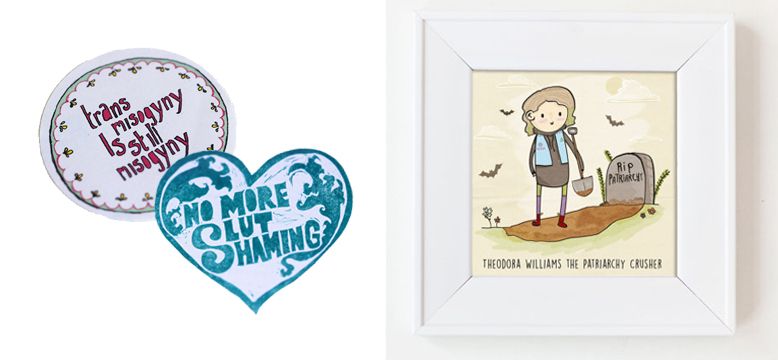 Left |
Fabulously Feminist:
Trans Misogyny is Still Misogyny: Recycled Eco Friendly Sticker
&
No More Slut Shaming Sticker
| this whole store is filled with handmade, eco-friendly, feminist stickers for kick-a*** women. Preaching everything from rules of consent to treating other women with respect, this sticker store will meet all of your patriarchy-smashing needs.
Right |
Discovering You:
RIP Patriarchy! Custom Portrait Drawing for Feminists!
| aside from the fact that I appreciate her abundant usage of my favorite punctuation mark, this drawing (which you can customize with your own face + name!!) is actually one of the best things in the world. P.S. My birthday is only 9 months and 14 days away, so I'm thinking early birthday present? yes? She also explicitly writes that she can add a hijab so basically I need
five
one immediately.
<(')